6 Traits Every Successful Entrepreneur or Small Business Owner Must Have
Being an entrepreneur or a small business owner comes with a lot of exciting moments and many challenges. If you've met any successful entrepreneur or business owner, you can often see patterns in their behaviors.
A business owner needs to have certain traits to see success – but does that mean you can't succeed if you're not the most meticulous, organized, available person?
Not at all!
Many of the skills and capabilities of small business owners are things known as soft skills.
We've charted out the six traits you need to have to be a successful small business owner. We've also highlighted how you can go about modifying your behavior if these skills aren't second-nature to you.
Read on!
1. A successful entrepreneur is a time management wizard
This is the first and most necessary skill to help you mitigate and manage everything you need to as a small business owner.
You need to be able to divide your time appropriately in order to be sure you're accomplishing all the (millions of!) tasks you have in your day-to-day.
Proper time management will allow you to handle your business stress-free and that's important for you and your customers.
How to manage your time
1. Get a tool that makes sense to you. If you're the type of person who likes to block your day into chunks or minutes, or if you're the kind of person who needs a calendar app, go for it.
Whichever tool makes sense to you is the right one.
2. Don't spend time dwelling on unfinished tasks. This is often easier said than done, but if you're stuck on something, simply move on and come back to it later.
3. Make sure you have dedicated time to focus on the business, whether in your store, office, or home office. These hours are for work only.
4. Dedicate time for you. Everyone needs a break and you don't want to risk burning out.
Make sure you spend time on yourself, your family, and fun activities or hobbies that take your mind off the business.
A company needs many types of leaders to function and to succeed. Often, a leader is capable of being creative or being business oriented or being a great technical founder. Not many people are all-encompassing, and that's okay. It'd be a lot of work to take on all those positions, especially when there are people suited to handle those types of role.
2. A successful entrepreneur is beyond organized
Anyone can learn to be organized, but in order to be a successful entrepreneur, you do need to find the proper processes and tools to help you.
Not everyone loves checklists or calendars or task managers but do whatever it needs to help you stay organized.
You will not just be sewing new clothes for your boutique. You'll be managing customer payments, handling requests, advertising your shop, editing your website, and so much more.
There are many small pieces of the puzzle to put together to run a successful business, and you need to ensure you're organized.
How to get organized
1. Create deadlines for yourself. Think of this: you could either track, store, and manage your payments and expenses properly all year, or you could panic two weeks before taxes are due rummaging through old, faded receipts.
Instead of the latter, set up monthly tasks, such as spending the second last day of every month compiling all payments received and expenses made.
2. Make a folder/file system that works for you and your team. You need to keep tracking of many things that still require a paper trail.
Maybe you have contracts or resumes or paper rent slips. Whatever it may be, keep a file and folder system that you can use and understand and that any of your employees can use and understand.
This will make it easy to maintain and no one will ever get lost. Remember – you may go on vacation and leave your keys to a trusted employee.
They need to be able to navigate your system as easily as you.
3. Host weekly all-hands meetings. At the start of every week, spend an hour reviewing everything that has been accomplished the week prior, and everything that must be accomplished this week.
Make a formal list (or for developers: a backlog of tasks!) to help track all that needs to be accomplished and manage your tasks throughout the week.
4. Get the right tools. You may be the kind of person who relies on a task manager, or the type of person who puts everything into an Excel document, or someone who can't live without their calendar (or all of the above).
Find the right type of tools for you-you may need to test out a few and thankfully many have trial periods.
3. A successful entrepreneur is a salesperson
There is a common phrase, "Always Be Closing", and this applies to having a mentality of a salesperson.
The phrase isn't meant to conjure images of a pushy salesperson, but rather to always have a mindset of looking for sales opportunities and strive to build your network.
It's hard to have a sales mindset, and many people feel they aren't cut out for sales. A belief in your product, store, service, or whatever it is you have created will come across in conversation.
You can learn to be a salesperson, and our recommendation is to be genuine.
How to be a good sales person
1. You need to believe in whatever it is you do. If you don't believe it, that will be obvious to any prospective customer.
If you love what you do or provide to customers, they will be able to gather than from any conversations with you and that's half the battle.
2. Don't be afraid to take a call or to ask for someone's information. If your ideal customer is a friend of a friend or if you know someone but not that well don't be afraid to just ask.
The worst thing someone can do is say no or not respond at all – and as a business owner, you will hear no a lot regardless.
Go for the cold call or email. They get easier as you go along and iterate them.
3. Follow up with everyone who has been involved in your business. If someone in your target market gave you great advice early on or you have a repeat customer who loves your products, be sure to reward these individuals.
Don't forget them around the holidays – a simple handwritten card goes a long way.
4. Be a genuine person. It can be hard to convince everyone that they need your product or service, and your job isn't to change people's minds – like convincing a teenager they need a retirement product.
You should be honest about your product or services capabilities and uses and who the target audience is.
5. Listen to feedback. Not everyone's feedback will be items you can apply, but often, there are important notes that customers provide that can become pivot points for your brand.
Sometimes, your original idea isn't the right fit with your customer. Listen and iterate as necessary.

Whether you're a business owner or an entrepreneur, productivity is the key to finding professional success and maintaining personal harmony. In today's competitive business landscape, it is essential for entrepreneurs such as yourself to pay strict attention to lifestyle choices, maintain discipline, and build a bouquet of winning habits.
4. A successful entrepreneur is an expert in his/her field
Whether you're a technical founder, a business person, or someone who simply loves the product you're selling, you need to be the go-to person in your field.
It can be a challenge as a business owner to manage so many channels where you need to be putting your expertise out there, but it will serve to benefit you in the long run.
Example of being an expert in your field
You may sell delicious, fresh roasted coffee at the cafe you run, but are your customers walking out with the right product for them and their tastes?
Make sure you are there at all touch points with your customer and that you're the person they ask all their coffee-related questions to.
How to be an expert in your field
1. Online, host a blog on your website that discusses different types of coffees, interesting flavor profiles, how to brew the best pot of coffee, and more.
Allow and encourage other coffee experts to chime in and participate in your blog. Make your blog the one-stop-shop for any person seeking coffee.
2. In store, be sure you're giving your customers the best advice, you are patiently answering questions, and that you have someone available to help mitigate the retail customer versus the food service customer.
3. Use partnerships and other strategic relationships to have yourself hosted on podcasts, appearing in videos, and more about coffee.
Make your brand about coffee and be sure it's well known that this is not only what you do, but it's also who you are.
5. A successful entrepreneur is always available
When you run a small business it's often not the case that a huge team is powering the initiative and that means you need to be there for your customers.
There is a lot to be said for having set times where you step away from being connected so that you can allow yourself to also disconnect.
How to always be available
1. You need to set business hours so that customers know when they can reach you without fail.
When you run a small business, you may find that customers want to call or email you outside of the regular 9-5 hours, so be prepared to have a schedule a bit different than most.
2. Have a dedicated phone number and voicemail available to your customers.
If you only answer the phone during certain hours, outline those hours in the voicemail and other helpful information.
3. Set up a business email at your domain name and have it shared on your website and social platforms so that customers can reach you there.
Be sure to set up an auto-responder that lets your customers know how long the wait is for a response (such as 2-3 business days) and commit to responding to all customers within that time frame.
4. Decide if social media is going to provide customer support or only act as a marketing channel. It can be difficult to handle customer requests if you're allowing them to come through so many channels.
If you find customers are contacting you via social media for help or sales requests, redirect them to the proper channels.
5. Beyond your current customers, you may want to drive sales in your off hours. If you want to collect leads, consider using a platform, such as Drift on your website.
A chat platform such as this one will email you each time a lead connects with the chat platform and it allows you to receive an update via email and log onto the platform to speak with that lead.
Figure out who your online target audience is Every business is different. The online strategy for a handmade soap store is not going to look the same as the online strategy for a motorcycle retailer. First, you need to figure out who your target market is and how best to reach them.
6. A successful entrepreneur puts clients first
This is easily the most important aspect of any business and for any successful entrepreneur. No matter what you're creating or building if your clients aren't happy, you will not succeed.
Clients can be your biggest advocates with "Word of Mouth" marketing.
According to Invesp, Word of Mouth marketing results in more than five times the sales of a paid media impression.
Further, people are 90% more likely to buy from a brand that their friend has had a positive experience with.
If your clients are happy, they will refer you to other people and you will be able to grow your business simply by the experience you cultivate for each customer.
Example of putting the client first
If you are selling a product, for example floral arrangements, and your customer is unhappy with how it appeared when delivered there may be a million and one reasons why and you may be in no way to blame (maybe the delivery driver smashed your flowers or it was tampered with at your client's delivery address).
However, that doesn't mean it's not your responsibility to put a smile on their face.
How to put the client first
If you're not the type of person who believes the customer is always right, then you will struggle to run a customer-facing small business.
Customers are your lifeblood. Any time a situation arises where your customer is unhappy, take a moment to pause.
You can do this in-person, over the phone, or via digital channels.
Always put yourself in the shoes of the customer.
How did the customer feel when this happened? How did this experience reflect poorly on your business?
In the example of the floral arrangements, maybe that customer had ordered a beautiful bouquet for a special occasion to someone who mattered a lot to them, and the arrangement was damaged upon arrival.
That's always disappointing because it reflects on your client, the gift giver, in the eyes of the receiver of the flowers.
You know your customer intended to gift something beautiful, just as you intended to provide a beautiful product to them.
Respond to them with an empathetic attitude and offer solutions, such as a new bouquet, a gift card, or a refund.
Your customer may have had a bad experience but your ability to set aside your personal feelings and respond professionally allows you to change the experience into a positive one that they can share about on social channels or with others who use your service.
Key Takeaways
As an entrepreneur, you need to be willing to put your business second to your customers' needs. Learn to balance your time, share your knowledge, and be an empathetic customer-centric individual.
With the six traits mentioned above, all of which are learnable skills, you will definitely transform into a successful entrepreneur.
Share what else you think a successful entrepreneur or small business owner needs to have with us on social.
Happy Small Business Week 2019!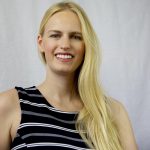 SAMANTHA LLOYD
Samantha is a digital marketing expert and entrepreneur. She currently works for Tucows, taking on the content marketing role for their subsidiary, Hover. She loves filling you in on the booming tech industry of Toronto, and beyond. When she's not working, she lives for travel and the ocean and is always looking for a chance to dive, snorkel, and recently – *attempting* to surf!