DevTeam.Space: Helping Online Businesses Succeed With Their Online Products
According to Forbes, over 90% of online businesses fail. However, for a large number of startups, many of which have innovative and promising ideas, this failure is avoidable. Rather than risking failure, they can choose a path that will ensure that they join the 10% of ones that succeed.
For online businesses, success depends on two factors:
Having a great product;
Developing a great marketing strategy.
However, if the product isn't good enough, no marketing strategy in the world will save it. So, having a great product is essential.
Problem
Once the ideation stage is complete, the next challenge is to build the product, or at least a first version of it anyway.
A minimum viable product (MVP) is enough to validate the product's market suitability and to acquire and serve a customer base that is big enough to provide feedback to scale the product further and to add new features.
This is where many companies struggle with the traditional developmental approach.
The market for online products has evolved rapidly over the past decade, and end users now demand higher quality standards than ever before when it comes to their online applications.
An indication of this is fact that most of products these days require both web and mobile applications, while the more innovative ones include artificial intelligence and blockchain technologies, etc.
Because of these factors, businesses need to hire developers from multiple disciplines in addition to figuring out a way to efficiently manage them.
This usually implies hiring not only in-house developers, but partnering with multiple remote developers, freelancers, or agencies, to cover all of the product development needs. That's an unsustainable, and often a very complex process to manage.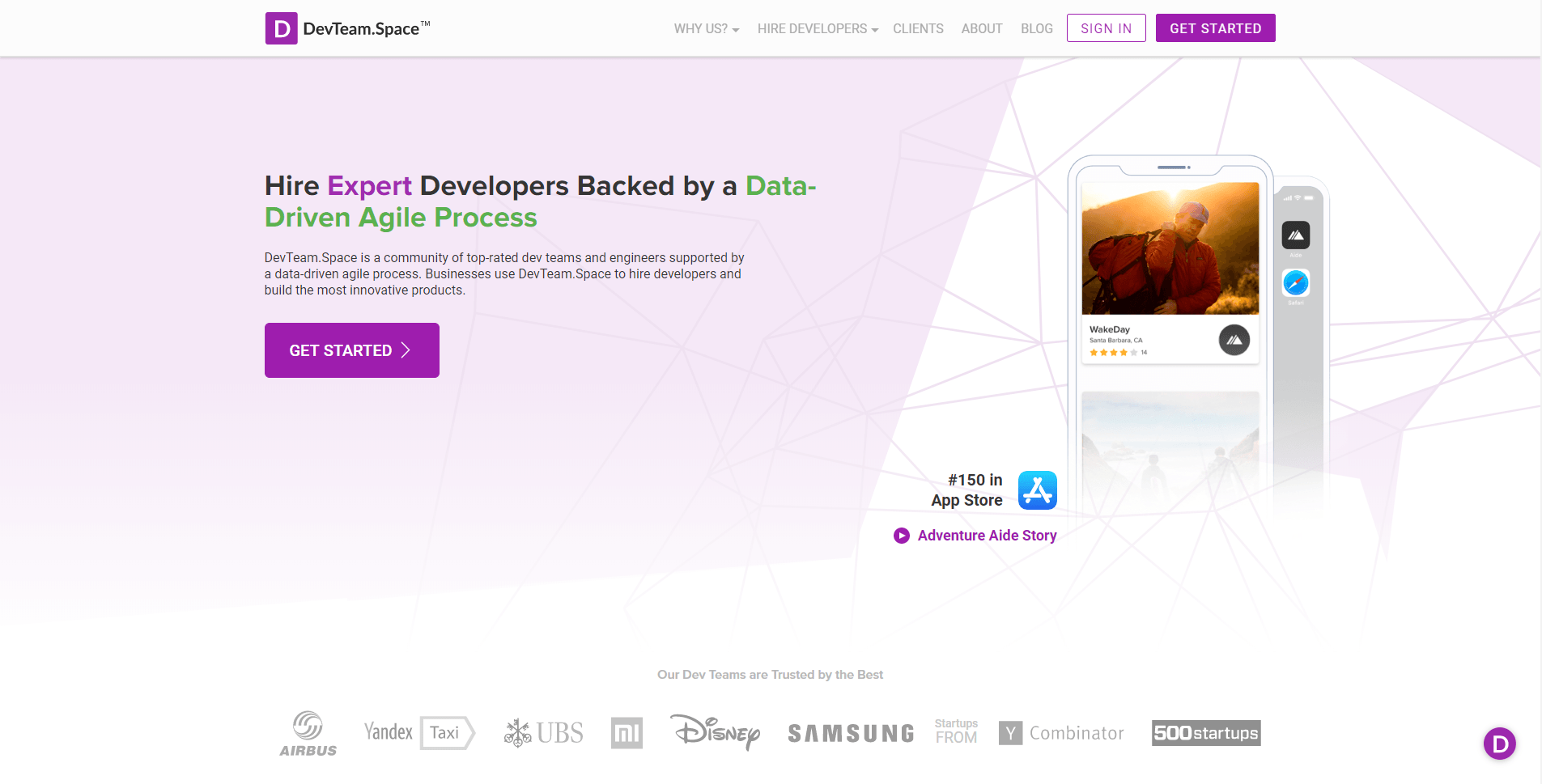 Solution
Fortunately, DevTeam.Space has a solution to this problem. As an AI-powered community of expert development teams,
DevTeam.Space has over 100 leading online businesses like Airbus, Samsung, Poynt, Carvana, as well as helped many startups from Y-Combinator and 500 Startups with their online projects.
According to their founder,  Alexey Semeney, the mission of DevTeam.Space is to help more online businesses build great products.
The company's vetted community of developers consists of expert development teams from North America and Europe, where each development team specializes in a particular technology stack or type of applications.
This allows online businesses to hire developers with substantial relevant expertise, all under one roof.
DevTeam.Space's AI-powered agile process helps online businesses to efficiently manage these developers. It consists of a suite of product management tools and an easy to follow step-by-step process.
It allows businesses to split the product development into weekly cycles in line with agile methodology and also to oversee each individual development team's performance.
The platform also provides users with daily/weekly performance updates, as well as providing information regarding any potential roadblocks.
This empowers the client with all the information they need throughout every step of the development process, helping them to avoid major pitfalls and to successfully oversee the metamorphosis of their project idea into a world-class product.
A recent example of DevTeam.Space's approach is the success story of DentaMatch, a Los Angeles based startup that helps dentist professionals hire and manage temp workers.
According to their video testimonial, DentaMatch struggled to finish their platform with a well-known software agency for more than two years without. The problem lay in the fact that their product demanded engineers from multiple specialties like:
Frontend developers
Backend developers
iOS developers
Android developers
DevOps engineers
QA specialists
After almost two years of struggle, and on the brink of complete project failure, they engaged DevTeam.Space to help revive their otherwise promising product.
The aim of their app is to match dental professionals to specific dental practices based on the skillset required and hours of availability.
Dental offices are able to create full-time or part-time jobs which will automatically notify dentists in their local area. To aid the recruitment process, the app needed to feature a live chat, a scheduling/notification system, and a payment system.
The DevTeam.Space backend and front-end teams took over the project development, and refactored the app and the backend, introduced the proper MVP architecture, and a REST API.
DevTeam.Space is on a mission to help more online businesses build better products that will help them find success in their respective markets